Here's a photo tour of our day so far!
We had Rainbow Pancakes for breakfast.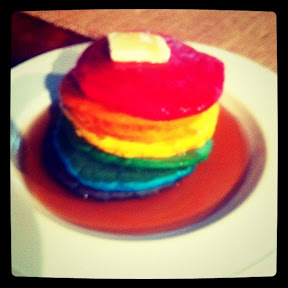 I embellished some green tanks with doilies for the girls...so no one got pinched, of course! (inspired by
CookieMondays
)
Then we went to Grammie & Papa's for Shepherds Pie, Corned Beef & Cabbage, carrots, parsnips, Soda Bread, Shanagarry Salad and beer! (which was almost cancelled cause Grammie isn't 100%...but we all rallied to help make her favorite holiday a success!)
(orange roses on the table...cause we are of the
NORTHERN PROTESTANTS
, and don't you
ever
forget it!)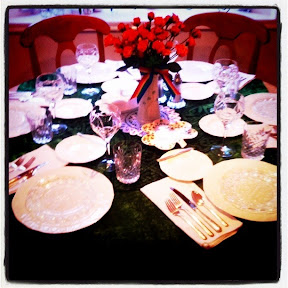 Green Cousins!!
(yes, for reals. That Guinness picture hangs in my parent's living room 365 days a year!)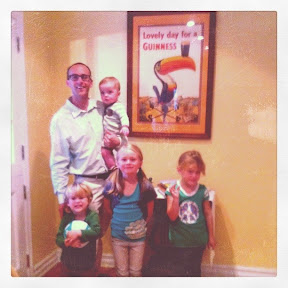 Later we're having Shamrock Whoopie Pies for dessert.
AND!!! In other news, (in case you haven't guessed by now) Mateo gave me my birthday present early. A brand spanking new
iPhone
!!!! And if you can't tell, I'm quite enamored with it. And
Instagram
too!
**Disclaimer: I know I am srsly late to this party called iPhone...but did you know you could BLOG from it?! Whoa. Compared to my
2008 Sprint DINOSAUR
, (LEGIT...I have blog evidence to prove I've been stuck in Flintstone-ville) this new toy of mine is like
manna from Heaven
, or sent straight from NASA, or Back From the Future! The things it is capable of doing...its sorta surreal.
Forgive me a few days as I acclimate to the present.
I'm having horrible issues reconciling the fact that
Me : iPhone = My Mother : VCR
My kids were asking I download the AngryBirds app before I ever really knew what apps were!
Yeah.
Not okay.
Moving on.
Hope everyone's day was as much a
Hooley
as ours! St. Patricks Day is one of my favorite holidays. So much so...I wear my "green" everyday ;-)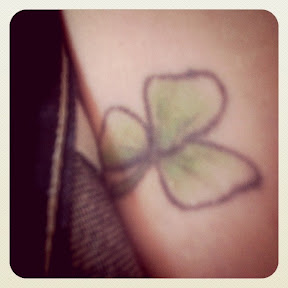 And now you know something VERY few people know about me!
(It was a Christmas present from my MOTHER! She, my sis, and me all have the exact same one!)
SLAINTE!!
-Posted using BlogPress from my iPhone