10 on 10 is when you take photo snapshots of your day, each hour for ten hours, on the tenth day of the month. Here is my today in pictures!
9AM - bags were packed as I wrapped up an awesome weekend at Creative Estates. It was an amazing experience that I will blog more about this week!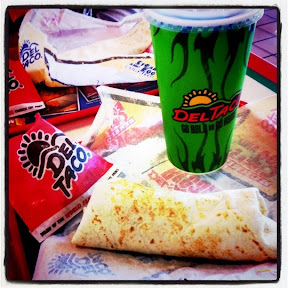 10AM - Hit up Del Taco for breakfast. Diet Coke the size of Texas was necessary as I'd stayed up til almost 2AM chatting with some fab new friends!
11AM -
Heather
and I went our separate ways. She to the airport and I to my roadtrip. We are both trip/directionally challenged, but together we made and awesome team! I so enjoyed sharing my weekend with her. Having an "old" blog friend there made it easier to branch out and make new ones!
12 Noon - Stopped to find my current craving. This weekend made it official. I drink coffee. Even downloaded the Starbucks locator app and bought a rockin' cute coffee cuff from
Oh Sweet Joy
! Kim is a dear with outrageous STYLE! (I want some just like hers when I grow up.) She is
creative and beautiful and has a heart for Jesus
. She was a JOY to meet this weekend!
1PM - Stopped to pee. I mean, are you surprised after my bathtub sized DC and Venti Caramel Macchiato? Note to roadtrippers going between CA and AZ: there's not much of anything for about 200 miles on the I-10. Even toilets. Pee when you can!!
2PM - Crossed stateline. Within 1 mile, there were palm trees everywhere. There's no place like home!
3PM - Road trip book of choice was very entertaining. But
CAUTION
! Vampire Honeymoons on audio CD cause lead foot disease. I am the proud owner of a speeding ticket.
5PM - Mommy's HOME!! Happy tears and lots of snuggles all around. Oh wow, how I missed these faces!
6PM - I passed out surprises. The girls loved their headbands made by Katie of
Vintage Rose Wraps
! (she is a doll by the way. So enjoyed meeting her this weekend. Each and every one of her creations is so yummy beautiful! Go check em' out!)
7PM - I discovered that my Homecoming included menus planned and groceries shopped for the week ahead. Mateo rocks my socks!!
What a day. We ended it with takeout and iCarly. This next week Daddy and kids are home on Spring Break! Perfect timing to catch up from my time away.
- Posted using BlogPress from my iPhone