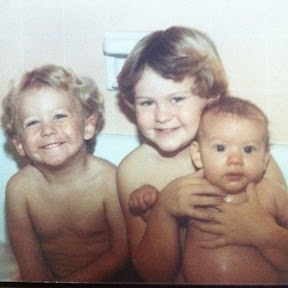 Me, Andy & Katherine circa 1981.
Bathtub photos always get me.
Sibling photos always get me.
Oldtime, sibling, bathtub photos are the BEST!
Hope everyone is enjoying their holiday weekend!
We are about to sit down to dinner outside.
With candles, roses from the garden, a vintage lace tablecloth from the church rummage sale,
French dips, cheesy potatoes, salad and root beer floats for dessert.
I am a happy girl!