Bieber showed up and sang at a restaurant/bar that is literally yards from our house over the weekend.
This made my girls shriek with what...
Joy? Excitement? Disbelief?
I'm not sure, but it was ear piercing.
Later I showed the girls his appearance on YouTube.
Megan said, "Mom! For reals. I woulda paid you like 10 bucks to let us sneak out and see that!"
Packing lunches Monday night.
These went in the girls boxes Tuesday morning.
Dentist appointments.
So far, I'm blessed that my kids seem to love the dentist.
Munchie was all clean, no cavities. YAY!!
Molly had to get a filling. BOO!!
We colored while she got drilled.
I think her love of the dentist deminished a wee bit.
Maybe a whopping bit.
But she was a trooper.
These pretties happily decorated my windowsill all week.
Love the color combo of peach, sage and turquoise.
Matching socks is my least favorite chore of all chores.
Do you do it?
I don't.
We just have a huge basket they go in and everyone gets to fish for their own.
Sometimes I pay the kids a nickel for each pair they match, fold, and put away.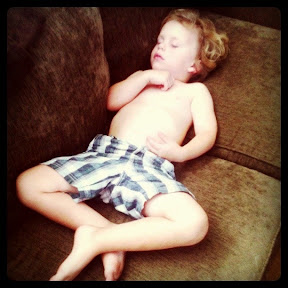 Munch is in the "inbetween" stage when it comes to napping.
Nap = doesn't fall asleep until 10pm.
No Nap = falls asleep on the couch at 5pm.
Then wakes for dinner with a stinky bi-polar attitude.
Ho Hum....
I keep telling myself, Summer is right around the corner.
I'll want him to stay up til 10 then anyhow, right?
Wednesday morning, Mateo and I made breakfast for all his students.
He fried 10 lbs of sausage.
I scrambled 5 dozen eggs.
It was awesome.
His kids (biological and educational) love him for it.
I do too.
At least once a day I wish I had Elizabeth Montgomery's nose.
A little "twinkle twinkle twink!" and this would go poof!
Clean and put away.
Yeah...that would be nice.
Maybe if I start calling Mateo, "Derwood?"....
This was my dinner Thursday night.
It was awesome.
If I could take 3 things to a deserted island it would be wine and cupcakes and Derwood for sure.
Bought these today.
Bring on the long weekend!
And the SUN!
(so help me, if June Gloom shows up on Sunday...)
Linking up to Jeanette's InstaFriday.
Cause lots of what I "capture" each week isn't with my camera, but with my phone!
Come play!