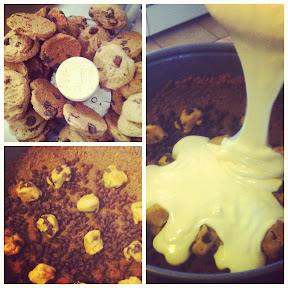 I promised I would blog all the "flavored" cheesecakes I made for the coaches this season. And I will...starting today with Chocolate Chip Cookie Dough, for Kristen! Sadly, this one was eaten up before I snapped a pic of the finished product. But I promise, it was a hit!! Most every cheesecake I make, is an adaptation of my basic recipe. I usually just change up the crust and add some yummy extras to the filling, and it always turns out great! So here we go:
Chocolate Chip Cookie Dough Cheesecake
Chocolate Chip Cookies, like Famous Amos or Chips Ahoy
(the amount of cookies you need will vary depending on size of cookies you use. I used mini Famous Amos ones and I needed about 30 to get the right amount of crumbs for the crust. You're gonna want to end up with about 4 cups of crumbs. Also, if you want to be crazy, and use homemade chocolate chip cookies for the crust, just be sure to bake them extra crispy so that you can grind them up!)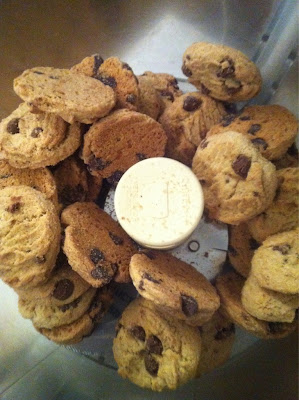 2 8 ounce packages of cream cheese, softened
1/2 package of refrigerated Chocolate Chip cookie dough, cut into 1/2 inch cubes
1 cup mini chocolate chips
Preheat oven to 350 degrees.
Grind cookies into crumbs in the Cuisinart with the metal blade.
Add the sugar and blend together.
Add the melted butter and pulse until the mixture comes together. It will be slightly crumbly. Press mixture into the bottom and half way up the sides of a spring form pan.
While your crust is in the oven, wash the Cuisinart bowl and blade and reassemble.
Blend the 2 pkgs of cream cheese
Add the sugar 1/4 cup at a time, pulsing between each addition.
Add the eggs, one at a time, pulsing between each addition.
Scrape down the sides of the bowl.
Add vanilla and blend until well combined.
Place half of the cookie dough cubes on the crust.
Sprinkle mini chocolate chips around cookie dough.
Slowly pour filling mixture over crust, chips and cookie dough.
Press the remaining half of the cookie dough cubes into the top of the filling mixture.
Return to oven and bake for an additional 40-45 minutes.
Right before the filling is done baking, mix together the topping. I put the 1/4 cup sugar and vanilla right into the container of sour cream and stir. (No need to dirty another bowl!)
When the filling is done baking it will dome a little at the top and will NOT jiggle in the middle when you move the pan around.
Remove it from the oven and immediately (and gently!) top with sour cream mixture.
Return to the oven for an additional 5 minutes.
Let the whole thing cool on a cookie sheet for about 30 minutes before removing the outer ring of the spring form pan. Chill for at least 4 hours before serving. (But I think it comes out best if you can chill it overnight!)