So here it is...the post you have all been DYING FOR, right?
My Breaking Dawn Pre-Premiere Party and Movie recap post.
Frist, I was so excited to have
Denise
here. Afterall, we first met thanks to
blogging and a Twilight Swap
! I couldn't have pulled the party all together that day without her. I picked her up at the airport at 8am on Thursday...and we worked and chit-chatted ALL DAY until party time. I also had my normal full house of daycare kids that day. And my sister and her husband in town, who stopped by for lunch. So Denise got a good feel for the chaotic crazy that is ME most days!
By the time 5:30 rolled around, Denise and I had checked everything off my list! My mom, sister and ever patient husband helped out a lot too. It was a team effort. I'm not really sure how to best post all the details, so I'm just gonna start with the invite and go from there. I made the invite using some Google images and
Picnik.com
. I kinda love how I played with one of my favorite quotes from the first book.
Front
Back
That night, the house was taken over with everything black, red and sparkly. I set the tables with red table cloths topped with black & white damask runners. Flower arrangements were red roses in silver buckets with glittery foliage. There were candles everywhere - tall tapers, red & black votives, and even a bloody one in an urn outside by the drinks! (Easily made with a white candle from the $1 store and some red sealing wax!) I also incorporated chess pieces (destash found on Etsy and spray painted), apples and feathers where ever I could. I bought several yards of 35mm film (it was actually Eclipse, also found on Etsy) and draped it around the tables. For the food and drink, I went with an Italian theme. Bella and Edward's first date was at an Italian restaurant...the Volturi are from Italy...Bella flew to Italy to rescue Edward...so, it seemed like a good idea! I served Minestrone soup and caprese skewers for dinner. The wine was from Montepulciano. This is the town where New Moon was filmed. So technically - it really was Volterra wine! I made an Italian looking wine label with the Volturi crest on it to put on the wine bottles. I also had "
Vampire's Dream
" shots served in syringes just to be totally over the top. The water bottle labels are
free printables from HWTM
. For dessert I made
Port Wine & Chocolate Cherry cupcakes
.
(this is what I like to call the Twilight pose.
Julie
and I are
kind of fond of
shooting sweets this way!)
And what is a party without some fun and games, right? We played "Name That Vampire" and "Twilight Trivia." For Name That Vampire, I made numbered pictures of 20 different Vampires, mounted them on some glittery paper, and hung them in my big plate glass window with twine and glittered clothes pins. I made up an answer sheet complete with
Bella & Edward pics
and
quotes
. And found the blood syringe pens at Oriental Trading on super sale after Halloween! Twilight Trivia was a Power Point I projected onto our Tree Screen in the front yard (a huge screen and LCD machine my teacher husband brings home from his classroom and hangs from our large tree!) Winners of both games received prizes of
NOX Twilight nail polish
, Red Rose Statement
Angel Face Designs earrings
in a cute tin I made, and a
Golden Onion
, of course. I got a little obsessed with metallic spray paint this party!
AND - you can't have a party without party favors, right?! I made Swag Bags for everyone filled with some fun stuff! The bags were black canvas that I labeled with "Keep Calm and Break Dawn" on the outside. Inside, guests found a 35mm film strip bookmark (I just cut the film into 10 frame pieces and laminated,) gummy fangs, a fang ring, a bag of candy blood (type V for Vegetarian
prescribed by Dr. Carlisle Cullen
, of course) feathers, a CD I made with songs from all 4 movie soundtracks (printed the CD sleeves on red card stock and then sewed up the sides with black thread. LOVED how they turned out!) Apple mittens, and a handwritten card thanking everyone for indulging me in my crazy!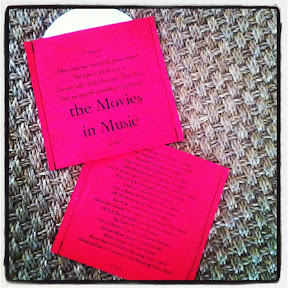 The mittens were my favorite part. I found the black mittens in the $1 bin at Michael's about a month before the party. I knew we would be standing out in the cold waiting for the movie to start at midnight, so I bought them up! I wasn't sure how I would make them "Twilight" themed however. First I thought of stitching a Queen chess piece to the outside or adding a black and white checkered ruffle to the cuff. But then, I thought of adding the felted apple to the inside. When everyone put on their mittens and did the "Twilight pose," I must admit I squealed with delight!! It's so fun when a vision you have comes to life and is exactly what you wanted. Huge THANKS to my mom, who helped me hand cut and blanket stitch 30 apples!!
Finally it was time to leave for the movie! I had packaged
Werewolf Kibble
and Vampire Bites for everyone to take with them. (
Mommy Holly
made the tags special for me!) I tied glow in the dark fangs to the Vampire Bites. The bites were pretzel squares topped with white chocolate circles, then I piped little red blood "bite marks" onto each white circle. They were cute! I also threw in some licorice. And...I embellished some popcorn boxes too...cause when I get going, it's really hard for me to stop.
THE ONE AND ONLY PICTURE I have of people that night.
Rachel, my SIL Adrie, Denise and Me waiting in line with our coffees!
So...my movie review in 20 words or less? (Yeah, right.) The midnight showing is always such a crazy energy. Plus I was a wee bit exhausted and amped from the day's events. I really enjoyed the movie, but it wasn't my favorite of the four so far. I loved the first half. The wedding was gorgeous. Her wedding dress - cuh-raaaazy gorgeous!! The toasts at the wedding were one of my favorite parts. I love Charlie and Jessica. Both actors play those parts spot on. The honeymoon was cute. Liked that they kept it fun and playful - didn't try to be over the top sexy. Loved where she's stressing about her "first time" and brushes her teeth, shaves her legs, splashes water on her face, sits down and freaks out a bit....Also loved the part where she's wearing all the lingerie Alice packs to try and get him to jump her bones and he's trying his best not to. Once Edward and Bella leave Isle Esme...the movie started to get to me. SHE GETS SO SKINNY....and at the time, I didn't know it was done with
CGI
. I spent a good portion of the second half of the movie freaking out over Bella's body. I know KStew tends to "live" her rolls and I was gonna be pissed if she starved herself that thin. Or if anybody let her starve herself that thin! Then my sister leaned over and told me it was done with computers and I relaxed. My girl crush was saved! The birth/death scene was pretty intense and gross. And when she drinks the blood...eeeeew! I liked how the movie follows the book so closely, but DID NOT like how it ends so abruptly. In the book, you can just turn the page and move past this deep, dark, bleak time in the story. But lucky us! We get to wait an ENTIRE YEAR to see the conclusion on the big screen. It felt weird, heavy, depressing- for the movie to build up and then end where it did. But there really isn't a better place to break it into two...and that's the $$ making machine of Hollywood. I guess they know what they are doing since in the 12 days since it's release, Part 1 has grossed 500 million world wide. Apparently I'm not the only one riding this crazy train! ;-)
Final two things about the day that I loved??
My tshirt. I found it
on a blog
about a week before the premiere and Olivia was kind enough to ship it right out! I wore it all day and it was fun to see the people around town, at school drop offs, the gas station - who recognized it and knew what it meant!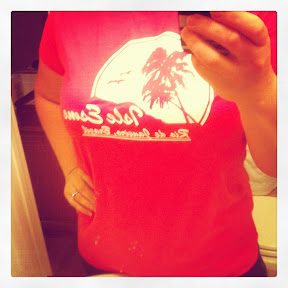 And...this text I received from Mateo EARLY Thursday morning. He was at a surf competition and I was just waking up. It made me smile from ear to ear. I promise to love this boy forever.
Every single day of forever
!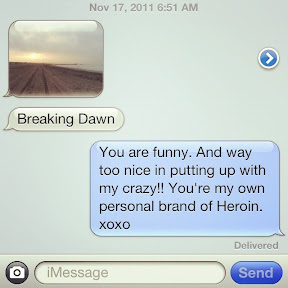 Ahhhh....I think I can put this obsession of mine to rest now. At least for another
340-something days
! Besides...I've already started obsessing on another movie. One of my other favorite YA Adult series. Want proof? See my
Pinboard HERE
. Be sure and mark your calendars for March 23rd 12:01am!
If there is anything about the Breaking Dawn party details you have questions about and I didn't link...please ask! I'd love to share. Lots of party details were first brainstormed on my
BD Pinboard
...so check that out too! Thank you to everyone who came to the party, helped me plan and execute it, and waved as I blew past on the Crazy Train. You all made this night that much MORE fun for me!
Finally - all the rad, crystal clear, awesome pics in the post were taken and edited by my fabulous friend and fellow Twi-Hard,
Julie
. I still love her even tho she is Team Jacob, and I can't thank her enough for capturing all the details the night of the party so I could play hostess. All the random, blurry Instagram pics are mine.. Duh. Keep Calm and Break Dawn! Til Part 2 Peeps.