Once upon a time, on a Thanksgiving Day long ago, my family all sat around the living room, half awake/half slipping into our dish wash dodging food comas.
Someone
asked why, after eating Thanksgiving dinner, you always feel like you need a nap? The family story goes that a wise person in the room (it is generally agreed this person was Mateo) answered that the tiredness was because of the
Tryptophan
. Still to this day, it is argued who said the next line. My sister says it was me. I SAY IT WAS HER. We bicker about it every. stinking. year. Anyhow -
SOMEONE
then asked, "What? Where is Fan? Who took a trip there?"
On that note...
here are a few things that, tongue in over stuffed with pie cheek,
Netflix and Redbox and HBOGo
because just in case the Mayans were right?....I'll be able to go softly into that dark night knowing I'm all caught up on the really important ish.
Psy and his Gangnam Style
because just when I thought I'd recovered from the trauma that was the Macarena, Korea decided to show up.


because apparently Kristen playing ginormous sized "Quarters," BAREFOOT, and slamming beer while people shout "DRINK DRINK DRINK," was something I didn't know I needed until it happened.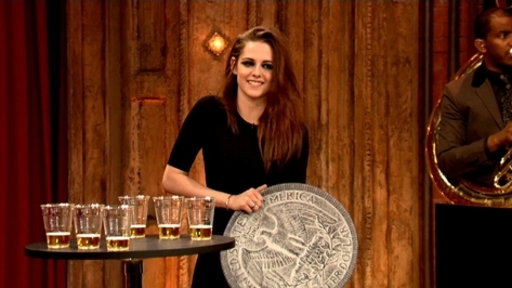 As was Robert pouring water all over himself to hide the fact that he peed his pants. Followed by the Water War. BEST.
Jake Gyllenhaal breaking up with Taylor Swift
because RED is the single best album of the year. This girl can take heartbreak and weeeeerrk it.
because, well, if you're not reading this everyday, you need to closely
re-examine your life choices.


because I know it seemed like the end of the world, but it's just HAIR, people. And for reals...she rocks it. I wanna put that Baby Girl in my back pocket so I can walk around with some of her self love and confidence.


because trips to Home Depot used to bore the ish out of me....but now they are entirely tolerable. Even encouraged.


because let's be honest...you don't want to see my Girl Crush, KSIBTU, and Christian Grey FanCast boards and I don't really want to share them with you.
Old Navy Commercials
because Dylan and Brandon selling jeans using teddy bears and motorcycles is pure genius. Do you buy a sensible, well fitting pair? Or buy a little too tight, bad girl pair? Because all of a sudden you're Kelly Taylor and it's the Season 5 Finale all over again. Do you choose a trip around the world with the rebel? Or an engagement ring from the class president? GET ME TO A MALL!
The Olympics
because two of my NHHS alums competed against each other...which allowed me to cheer and vicariously burn calories from my couch.
And because of Ryan Lochte's abs.
because it makes me feel so understood when I see your shots of your food and your sunsets and your photojournalistic selfies.
because just stop it. No child in America ever need be Dorothy again. Or any Oz creature for that matter. It's been done. It ain't gonna get this cute again.
Paul Ryan's workout photos
because...if you look at them twice a day for 3 weeks you'll get a six pack. From laughing so hard.
Drive Thru Starbucks
because, duh.
because it's the single best invention ever in the history of history. And because it's saved me from wasting my precious time on commercials. So I can do more important things with it. Like watch more TiVo. And again, just in case the Mayans were right.
because this man knows a woman's body and how to dress it and because of him (on HER) I almost died twice in one week. I saw her in the gold one IN PERSON!!! More on that soon, promise.
because you should always be yourself. Unless you can be a Unicorn. Then you should always be a Unicorn.
Happy Tryptophan Day! I hope yours is full of waaaay too much carbs and sugar and just enough "nuh-uh" and "yes-huh" to berate your siblings into washing the dishes so that you can enjoy a little too much wine and fall asleep on the couch with pie in your lap and football on TV! Yes. That.