Bear with me as this is my first tutorial post ever. I hope it's not too confusing for anyone to follow my scatterbrained, impatient, crazy directions. Please email me or leave a comment if you have any questions or need further explanation with anything!
When I was at the Goodwill last week, I found two 8X10 canvases for only $1.99 each! I bought them not knowing what I would do with them, but that was too good a deal to pass up. After Matt got the white shelves hung in the girls' room...I knew exactly what I would use them for!

I have been wanting to paint the girls silhouettes for awhile. I had read a few tutorials online and thought I could wing it with a little patience and a steady hand. This was a two night job for me, just because the idea came to me before I had taken profile shots of the girls (and I couldn't wait to start!) and because I wanted to paint pink and white stripes behind the silhouettes, so I had to do that part first.

The canvases were old, yellowed, and had some pencil marks on them. So to clean them up before painting the silhouettes, I taped them off with blue painters tape to create stripes. (But didn't think about doing this tutorial until that part was all done of course, so no pictures.) I think the idea is easy enough for you to recreate without step by step pics, however!

First I taped both the right and left sides, and then split the remaining empty middle part of the canvas right down the middle with another strip of tape. That left two empty lines of canvas that I spray painted glossy white and let dry.

When the white stripes were dry, I removed the 3 strips of tape around them and then placed blue tape on top of them, making sure all the edges were sealed well. This left me 3 empty stripes of canvas. One on each outer edge and one running right down the middle. These I painted the blank with glossy Candy Pink and let dry.

Next, I took two profile pictures of the girls and printed them out on my crappy printer that is low on black ink. (See no high tech, well functioning tools needed!)

Then I took my fine edge, razor cutting tool and carefully, SLOWLY, cut around the shape of each girls head (this was the super dooper hard part for my impatient, ADD self) paying special attention to their nose, lips, and hair-dos (ponytail and curls respectively.)

Then this is where my ADD self got in the way. From every other tutorial I've read, you are now suppossed to take the outside part (the full 8 1/2 X 11 part) and tape it down over your canvas and then paint the empty inside (the part you just removed) black with a brush.

Well, I couldn't do that. Because One - I wanted to be fast and use spray paint and I was concerned the black would go every which way under the outline of the girls heads and mess up my pretty stripes. And Two - the fine detail in Megan's pony tail broke off my large 8 1/2 X 11 piece and I wasn't about to sit there and cut it out AGAIN!

So I crossed my impatient fingers and improvised by spray painting the little faces I had just cut out instead! (again - took pics AFTER I had almost finished the project, so here is what was left after I spray painted their heads black.) You get the idea, right? Put the little heads down on a piece of wax paper and spray paint black. Done. Simple.

The wax paper part is important. Otherwise your cute little silhouettes will stick to the paper you are painting them on (like mine did) and you'll have to carefully pull them away and paint again. (Hence why you see two Molly heads!) So, please, use the wax paper!! (My radtabulous mom gave me this idea AFTER I was done.)

Then take each girls head, and Modge Podge it onto the striped canvases.

Sometimes (cause I'm impatient) I have trouble with Modge Podge wrinkling and bubbling up my paper. But if you take your time and allow the underside layer to dry 20-30 minutes before applying the top coat, you'll be fine!

First paint the backside of your black silhouettes (like it's glue) and place them on your canvases in the exact spot you want them to be. WAIT for it dry. WAIT...WAIT...WAIT....

(If this is hard for you, start another project that you'll only get about 30% finished and then leave it on the garage floor til the next day....that's what I do!)

After your first layer of Modge Podge is dry to the touch, paint another layer over the top of each silhouette. You don't have to do a heavy coat. Just enough to seal the edges to the canvas. WAIT for it to dry. WAIT. WAIT. WAIT.

(Again, if this is hard for you to do, have a crafting epiphany and add another glittery, cutesy step to aforementioned project, making you work more, but still be only about 30% done!)

Finally, when your top layer is dry to the touch, about 20 minutes, paint another final layer of Modge Podge ver the entire canvas, including the sides.

WHA LA! You are done. Let dry, and then place on shelves in girls room, in the dark in the middle of the night, almost falling and waking said girls, because you are too impatient to see the "finished" result in the morning.

Step back and admire your awesome, winging it, self! Go to bed happy.

Wake to younger daughter's tears. She loves her silhouette but is mad her's isn't with a ponytail like her big sisters!

Sigh. Roll Your Eyes. Blog about it.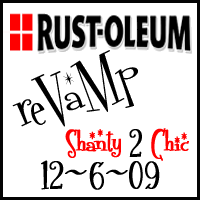 Shanty2Chic
(one of my favorites!!) is hosting a
Link Party and Giveaway
for all you "repurposing" diva extraordinaires out there! Just make something fabulous using Rust-Oleum, take pics and post, then link back to the party....and your done! Can't wait to see what else people do. I've been a spray painting fool since we moved into our new house. Without a whole lotta moola - there has been a whole lotta "mending" and "make-doing" around here. I'll post some more projects soon!