Some of you may remember my "
Thankful Thursday
" posts from the past two years. I've decided this year, to repeat the sentiment, but all in one week!
Giving thanks for one's blessings on Thanksgiving is traditional. But feeling grateful
every day
is an attitude and a way of experiencing life. One of my goals is to cultivate this attitude in myself and my children more and more. I figure, what better way to learn how to do this, than from some of you? Daily readers I admire so much!
Today begins"A Week of THANKS" at Bringing Up Burns. Each day I'll introduce a new, awesome woman who is working hard to keep Thanksgiving in her heart and home all year through. Some of them I know personally, some are family, some are my blogging buddies. All of them I consider friends. I've asked each of them to answer 5 questions about how they actively practice being THANKFUL. I hope you enjoy this as I much as I do!
Today I'd like you to meet Maureen Anders.
She's awesome, spunky, funny, beautiful, has mad design skills and a crazy attention to detail. Best of all, she's busy, happily overwhelmed, and juggling the blessings of being a wife, mom, and HAUTE entrepreneur! Maureen and I share the love of all things paper and parties, which is how I first "met" her when I purchased Megan's birthday party invites from her shop, AndersRuff, last Summer.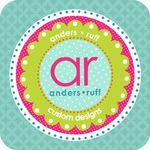 Since then, she and her partner Adria, have become dear to my heart. Thyey have designed many more invites and party packages for me, and inspire me daily to find the FUN and FANCIFUL in everyday. Here are Maureen's answers!
How do you try and give thanks every day?
Throughout the day, I will just sit and watch my children play, listen to them say funny things (or watch them sleep, for that matter) and really enjoy the moment. They grow up so fast and I'm so thankful for my loving boys. I keep a journal for each of my boys where I write down memorable sayings or milestones that they hit throughout the year. When they grow up, I want them to know how special I found each moment of their childhood.
What do you take for granted that you might express more thanks for?

Health of my family. Whenever I hear stories about sick children and young adults, it makes me step back and really acknowledge how lucky we are to be a happy and healthy family. At the end of the day, if you don't have your health, you don't have much.
What attributes do you posses that you are most thankful for?
I am thankful for my design skills, passion and drive, as well as my attention to detail and my MATH skills!
Who has treated you with kindness or generosity, and how would you like to thank that person?
My mom has been a constant source of support for me. We live 600 miles apart and every time she comes to visit, she helps motivate me to get organized.

She is an organization junkie and is constantly giving me new ideas to keep myself organized (which is so important with how busy we are). On top of that, she insists on helping me in every aspect of my household. This past visit, she sewed custom window treatments for Pierson's room, organized my laundry room and the boys' closets. She never lets me help her! I'd love to give her my undivided time to do something for HER. Maybe I'll book a trip for 2 to somewhere relaxing! ;-)
What is your favorite Thanksgiving Tradition?
Game time (NOT sports). Every year we play a game (and bet money on it!) as a group of 16 or so. It is so much fun to all be together and playing games is the perfect ending to a wonderful feast.
Thank you Maureen! I really enjoyed reading your answers to my questions. I have very little MATH SKILLS, so you are right to be thankful for those! And I too, have a Mother who helps me beyond measure. I could thank her everyday, and it probably wouldn't be enough!
Be sure and check out Maureen and Adria's blog
HERE
! It's eye candy and party inspiration galore! They are constantly offering the cutest FREE printables for the season and have fun giveaways each week! Don't miss out hopping around their shop
HERE
!
They have a FABULOUS
Fall Harvest printable collection
that I don't think I can live without. (It's going to be my first year hosting at our house!)