So last night my friend, Julie, texted to let me know
her post today
was going to be about me. Sorta. Once I read it...I knew what my Insta-Friday post had to be about. No matter how embarrassing the pics might be!
Yes. I'm planning a Breaking Dawn Pre-Premiere party. It is well documented that I'm
a bit obsessive when it comes to party planning
. It is also well documented that
I love Twilight
. Put the two together and it was bound to get a bit crazy. But even I wasn't ready for HOW crazy...This is how it all began. With an invitation I designed myself. If you've read the books - the quote on the front should sound
somewhat
familiar!
Then I saw these cute book page wrapped pencils on Etsy and decided to try some out myself. That gave me the idea of creating "Swag Bags" of Twilight awesomeness for my guests. These will be in them.
Then I ordered a stash of random chess pieces from a novelty seller on Etsy. Because...of course I will use these somehow and needed them desperately.
About this time I didn't feel too lost in my crazy. Having fun, for sure! But there was still plenty of crazy I could get into. So, I contacted my favorite, FAB, handmade papergoods making friend
Holly
, and asked her to come up with some cute tags to tie on the sweet treats I'm packaging for everyone to take to the movies. She hit it out of the park! Love these!
And then I downloaded all the free Twilight fonts onto my computer.
And designed an Italian looking Volturi wine label to cover all the bottles at the party.
Yep. I think it was about this time I texted Julie that I was #drowninginthedeependofmycrazy!! But I kinda knew I was headed in this direction, so I might as well embrace it, right? I think yes. So this week I have:
Made a Power Point Twilight Trivia game that will play on the
Tree Screen
the night of the party!
And ordered 10 yards of 35mm Twilight film that I am turning into bookmarks. (More swag!)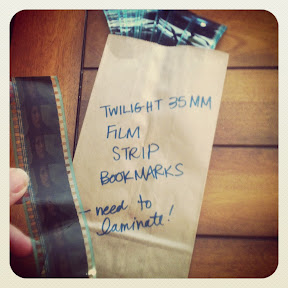 Yes. I am crazy. But it's all in good fun. And think of all the crazy still left for me to get into with 2 weeks left until the party/movie!? Want to know what I'm doing with these felt apples (that my fab mother cut out for me)...well you're just gonna have to wait and see!
Thanks for the inspiration, Julie! You are a true friend to support my crazy. Mad love for you. And sparkly vampires!
Linking up with Jeannett. I'm sure this post will warm her heart. Vampires have to be somewhere on the scale close to Dolphins!!